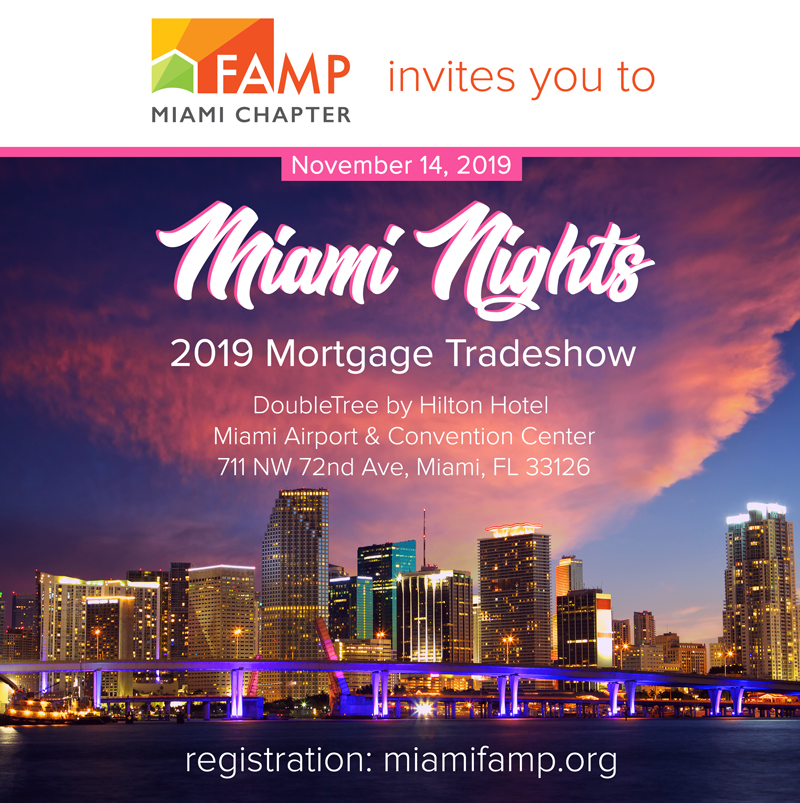 Preregister for a chance to win Apple Watch!
Sponsored by:

SCHEDULE OF EVENTS
8:00am – 5:00pm
8-Hour Florida SAFE Comprehensive 2019 Mortgage Loan Originator Course*
Registration begins at 7:30am
Instructor:  Joe Falk
The FAMB Foundation 8-Hour SAFE Comprehensive 2019 Mortgage Loan Originator Course will provide those in attendance with a review of the Real Estate Settlement Procedures Act (RESPA; the Truth In Lending Act (TILA); an overview of Florida Statute 494 and Administrative Rule 69V-40 as well as a look at CSBS/AARMR's Guidance on NonTraditional Mortgage Product Risks.
(* FAMB Foundation NMLS Approved Course Provider #1405044, Course ID # 10625)
9:00am – 10:00am 
Silver Hill – Commercial Mortgage Sourcing Secrets: How to Find (and Close) Commercial Deals
Looking to grow your commercial mortgage business in South Florida and generate additional revenue each month? The first step is knowing where to find the deals you can close quickly and with confidence. Let the original small-balance commercial experts show you:
How to build your pipeline with bank/agency fallout opportunities
Which channels you should add to your marketing mix
How to present a deal to maximize the chances of approval
Whether you're an experienced originator or just starting out in 2019, this is one presentation you won't want to miss!
10:00am – 11:00am
Angel Oak  – Grow Outside the Box Using Non-QM
Speaker: John Jeanmonod – Regional Sales Manager
The mortgage lending landscape is consistently changing making alternative lending more important than ever. Non-QM products offer innovative quality solutions created as an answer in today's challenging market.
Join our informative breakout session with John Jeanmonod, Regional Sales Manager with Angel Oak Mortgage Solutions. You will learn what alternative lending means now and why you shouldn't ignore non-agency options.
Originations are expected to be lower this year overall and the refinance market has declined drastically. Lenders are forced to find new ways to produce volume. The non-agency market continues to thrive despite a decreasing real estate market with growth potential of over $100 billion in annual originations expected. Find out how you can grow your business and help underserved Americans find the mortgage solution that fits their needs for the home of their dreams. Everyone wins!
Learning Objectives Include Understanding:
How today's non-prime/non-agency market is completely different than the sub-prime of old
What programs are available to help challenging borrowers
How to identify and reach potential non-QM borrowers
How to qualify and actively market to them to add volume
How to use alternative lending to successfully differentiate yourself
11:00am-12:00pm  
MoneyHouse US – Understanding Condo Hotspots
Recent changes announced by HUD to Condo guidelines and the Lender's ability to seek approval of a single unit condo under special eligibility guidelines has created a boost to market share and volume for many MLO's.
The new condo guidelines are greatly impacting senior American borrowers providing new opportunities for access to Reverse Mortgage (HECM) programs and traditional Forward FHA loan products as well.
Join Ralph Rosynek, a seasoned HECM DE Underwriter and SVP of The Money House, Inc. (a Ginnie Mae MBS and HMBS Issuer) with Chris Munson, Moneyhouse VP of National Sales and Marketing for an informative discussion of new guidelines and procedures related to individual condo approvals – it's not the old spot condo process!
12:00pm – 3:00pm

Self-Employed Income Calculation Class Presented by Radian
Instructor: Susan Walsh, Radian Southern Regional Training Manager
3:00pm – 4:00pm
BAC Florida Bank – Global Market Trends that effect the South Florida Market.  What to expect from Latin America
Speaker:  Jeff Gross, Managing Director, BAC Florida Bank.  Jeff Gross has over 30 years of experience in the U.S. real estate market and in the South Florida market, overseeing BAC Florida Bank's residential and commercial real estate for over 28 years.
4:00pm – 8:00pm  
Trade Show Floor Open
Presented by Miami Chapter of FAMP Sponsored by Quicken Loans
Join us for the biggest mortgage trade show in South Florida as close to 100 exhibitors will be showcasing their programs and services. This is a "can't miss" for mortgage professionals in the South Florida community as the most diverse group of lenders and affiliates will be together in one room.
Preregister for a chance to win Apple Watch!
PRE-REGISTER NOW
Must be present to win.
8:00pm – 10:00pm  
After Party Sponsored by Quicken Loans
Come celebrate and network at our famous "Miami Nights" after party following the trade show.  Live DJ, Food and an on-site Cigar Roller will highlight a night of networking with your peers!